| | |
| --- | --- |
| Posted on September 2, 2013 at 7:10 PM | |
MORE than 1,500 festival-goers sat in a field over the weekend in the Cheddar Valley - all to raise money for some worthy causes.
The Sat in A Field Music and Arts Festival proved to be a bigger success than organisers Mike David and Marc Atkins had anticipated, with the duo having to hire out an extra six acres of land because of the sheer amount of bands involved
Held over August 23, 24 and 25 in Clewer, the festival was raising money for Children's Hospice South West, Myeloma UK and the Nikita Fund.
Bands on the main stage including The Communicators, Jamie Clarke's Perfect, The Orphans, and The Riverbrew to name a few, with The Cube Stage introducing Criminal Minds & Tribe Steppaz, Wragg and Scorpio along with many others, and The Otters Pocket stage including Gavin Cox, Harrisen Larner-Main and Mark Buster McAdam. There was also a children's tent with magic shows, circus workshops, bouncy castles and Punch & Judy.
Mike said: "We were blown over by the number of people that attended the festival. We did a trial run last year for my birthday, on a much smaller scale but just to test how it would run. We have a five year plan in place to take the numbers up, but we are going to be very careful how we grow it, we don't want to jump too fast, too quickly."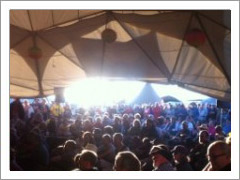 Over the festival weekend Mike and Marc were visited by members of Mungo Jerry and Bad Manners, who registered their interest for future years, and Mike said he was told the festival had a real feeling of Glastonbury when it first started out.
Although Glastonbury Festival organiser Michael Eavis is one of Mike's heroes, he says he's a different person with a different festival - but who knows, over the next five years maybe Sat in a Field will be as popular as Glastonbury.
You can find out more about the festival on www.satinafield.com, on Facebook and Twitter.
Categories: None